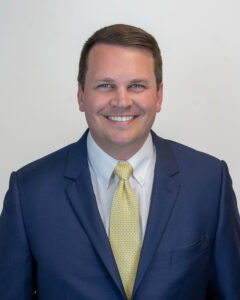 As a senior project manager, Brennan Bell continuously goes above and beyond to serve HPM and its clients. After joining Hoar Construction in the spring of 2011 as an assistant superintendent, Brennan came to HPM in 2012 to serve as an assistant field coordinator for storm damage repairs on the Wallace State Community College (WSCC) campus in Hanceville, Alabama. In June 2014, HPM was awarded the Pelham City Schools' program management services contract, and Brennan was selected as the assistant project manager. He quickly proved himself to be a capable manager of the school system's capital building program, managing both preconstruction and construction phases concurrently. He successfully managed the completion of the Vestavia City Schools program in the last year and is currently leading a team on the Birmingham-Jefferson Civic Center (BJCC) renovation. His dependability and drive to succeed make us proud to announce Brennan's promotion to Senior Program Manager. 
"Brennan is an incredibly hard working, steady, and dependable manager," said Brooks Ballentine, HPM Director of the East Region. "He puts the best interest of the client and the program at the forefront. He is always ready to jump in and offer his direct support to make programs successful, even if it means putting in a little more effort."
As Senior Program Manager, Brennan is responsible for managing and leading several programs that are supported out of HPM's Birmingham office, including Calhoun Community College, the University of Mississippi (Ole Miss), the BJCC, and Buffalo Rock. Brennan has taken on additional leadership, including being a member of HPM's 2020-2021 Leadership Council.  
"Brennan is a rock-solid performer, and he is reliable and driven to succeed in everything he does," said HPM Senior Program Manager Taylor Thorn. "These accomplishments are all a testament to Brennan's commitment and ability to serve his clients and HPM teams. He is going to be a great leader in our company for years to come."