When Birmingham, Alabama, hosts The World Games in July 2022, the world will be watching. An anticipated 3,600 athletes from more than 100 countries will participate in more than 30 different sports at unique venues across the Magic City, uniting global fans with the Birmingham community. With less than 500 days to go before competition officially begins, HPM is proud to announce that we will serve as the Official Program Management Partner of The Games. 
HPM has developed into a nationally recognized leader in program management, representing owners in managing more than a billion dollars in construction volume a year. HPM's portfolio spans the country, including work on Protective Stadium and Legacy Arena in Birmingham, throughout the University of Alabama campus including the latest renovations to Bryant-Denny Stadium, within Major League Baseball for the spring training homes of the Atlanta Braves, the Washington Nationals, the Houston Astros and the New York Mets, for sports facilities at Texas Christian University, and many high-profile projects for global clients throughout the U.S. such as Airbus and FedEx. In partnership with The World Games 2022, HPM will provide construction management services, with a focus on temporary fields of play for The Games such as beach handball courts, canopy piloting field of play, and boules courts. 
 "This is an incredibly exciting opportunity for me personally and for our company as a whole," said Ryan Austin, Executive Vice President and Chief Operating Officer at HPM. "We're thrilled to have the chance to contribute to a once-in-a-lifetime event for the Birmingham community, one that so many have already worked hard to make happen. We're eager to get started and be part of the process."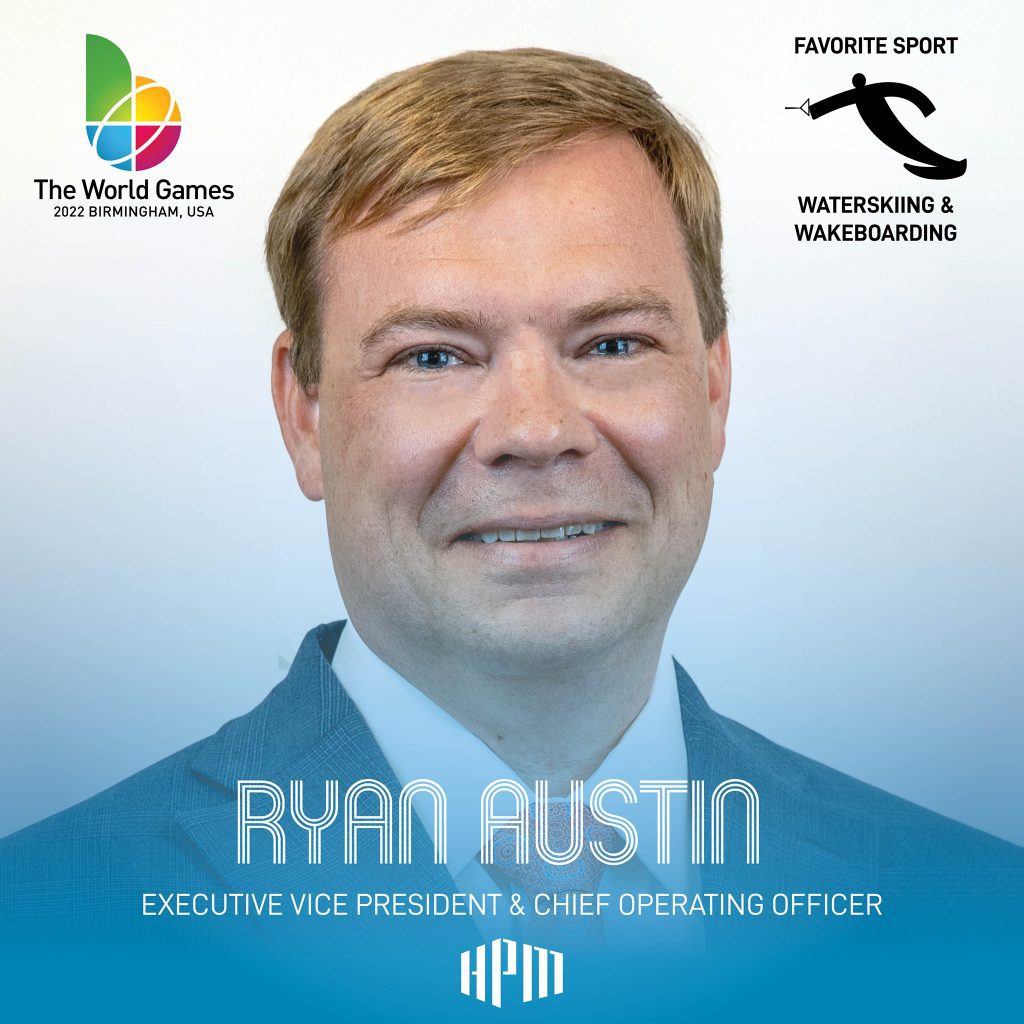 In addition to the firm's partnership, The World Games Committee announced today that Austin will serve on the board of directors, joining Brian Barr of Brasfield & Gorrie. The Birmingham-based construction firm has been named the Official Construction Partner of The Games.  
Originally from Oxford, Alabama,  Austin holds bachelor's and master's degrees in accounting from Auburn University and is a Certified Public Accountant and Certified Construction Auditor. He also serves on the boards for the Associated Builders and Contractors of Alabama, Cornerstone School, and Ingram State. 
"Brasfield & Gorrie and HPM are world-class construction and program management firms, and their partnership with World Games 2022 is so valuable," said The World Games 2022 CEO Nick Sellers. "But even more valuable is the addition of Brian Barr and Ryan Austin to our board of directors. These two gentlemen are leaders in our community and state. Brian will serve as the Chair of our Construction Committee and Ryan serve as Vice Chair."
ABOUT THE WORLD GAMES 2022
The World Games 2022 Birmingham will be an extraordinary Olympic-style sports experience where elite athletes from all over the world compete for gold in 34 unique, multi-disciplinary sports. Featuring 3,600 athletes from more than 100 countries, the international event will unite global fans with the Birmingham community in 25+ unique venues around the greater metropolitan area. The World Games 2022 Birmingham, which marks the 40th anniversary of the event, will take place from July 7-17, 2022 and will generate an estimated $256 million in economic impact. The World Games was established by the International World Games Association, an organization recognized by the International Olympic Committee. For more information visit TWG2022.com or on Facebook, Instagram, or Twitter.