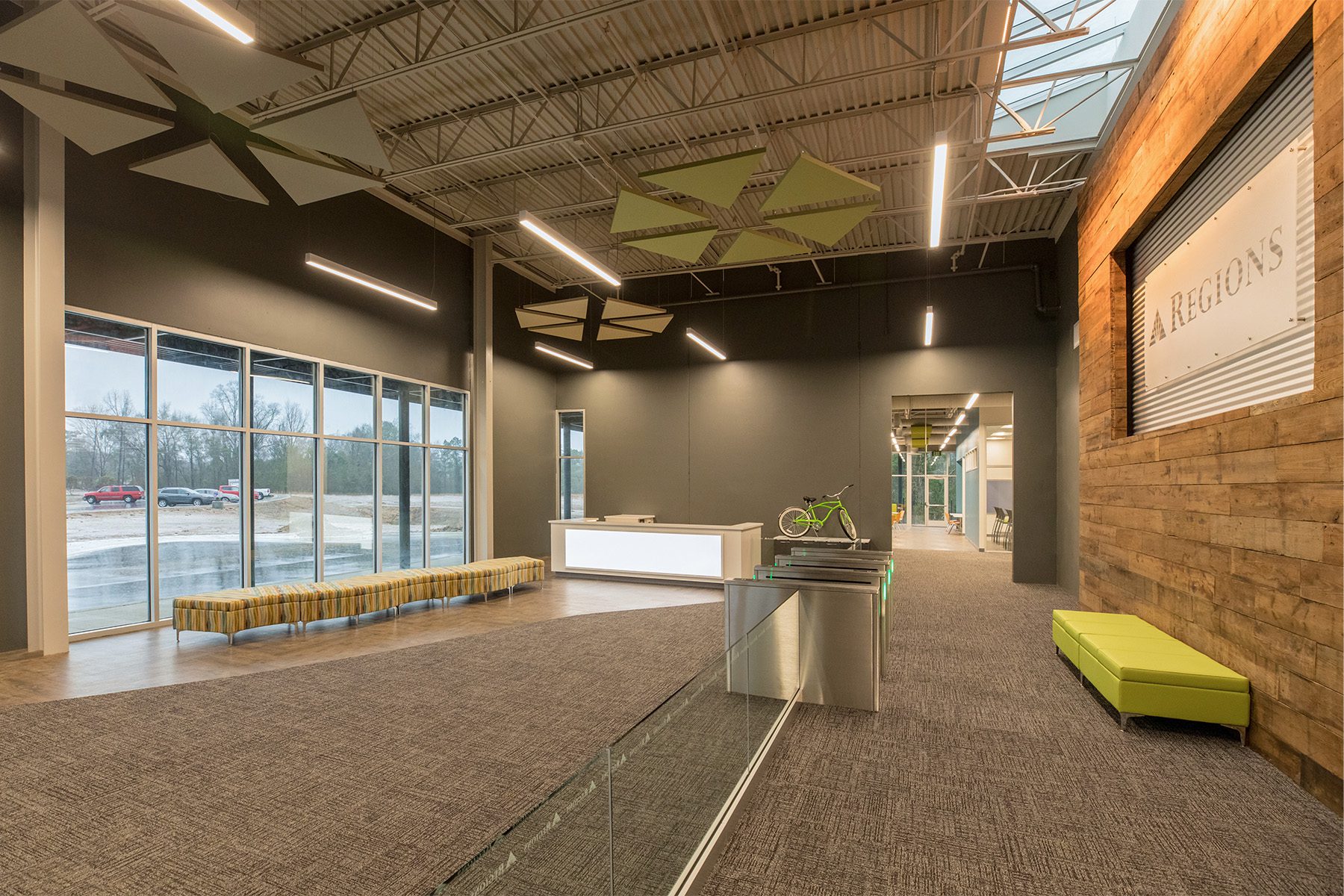 News | Move Management | Owners Representation | Procurement | Project/Program Management | Tech & Corporate
May 28, 2019
March marked the beginning of a new chapter for Regions Bank in Hattiesburg, Mississippi, thanks to HPM's work in creating a brand-new mortgage operations facility. The HPM team oversaw the management and procurement of all design, engineering, and construction for the $23 million project that was Regions' largest ground-up construction project in 2018 across its 15-state imprint. As an ever-growing company that also is one of the nation's largest banks, a commitment to constant evolution in an effort to meet customer and employee needs is central to Regions. Commissioning HPM to manage the Hattiesburg mortgage operations project is a perfect example of that commitment.
The resulting 59,055-square-foot facility was the culmination of 20 months of collaboration between Regions and HPM, since bank officials announced plans to consolidate mortgage operations and move to a larger, more accommodating space back in April 2017.
The new center consolidates 325 employees from three separate downtown Hattiesburg buildings into one centralized mortgage facility. The facility sits on a 10-acre site with the building itself taking up two acres and the remainder of the space being used for parking and walking trails for employees. HPM's plans also allow for a 20,000-square-foot expansion option, successfully fulfilling Regions' goal to obtain a long-term expansion solution. Other goals met through the project were a reduction in Regions' operating footprint and increased efficiency in the company's account servicing.
On the design end, the project provides a balance of open and collaborative space to support a healthy work environment. The open-concept office layout allows for collaboration between departments in a comfortable, yet energizing environment. Smart design elements and modern furnishings provide functionality without compromising aesthetics. HPM partnered with Kimball furniture company to outfit the office in multi-functional pieces that maximize storage space, comfort, and visual appeal. Other key design features include floor-to-ceiling windows, a lobby skylight, and the use of reclaimed pine for a decorative branded wall.
Building amenities include:
175-seat multi-purpose room comprised of three smaller conference rooms with a moveable wall partition
two large café break rooms with kitchens and micro markets
two exterior patios with outdoor seating
two conference rooms with video conference room capabilities
multiple conference rooms with display monitors
lockers
two wellness rooms
an ATM
a centralized waste station
All in all, the project marks another successful collaboration between HPM and Regions. "We are extremely proud of the new facility and couldn't be happier with the tremendous work HPM has put in to meet all of our needs for the project, " says Mortgage Servicing Division Manager Morgan McCarty. "They listened to our vision for the building and executed at every turn. This building is key to Regions' long-term growth, and we're proud to have had HPM on board to help make it happen."
Photos by C Studio Photography
Ready to discuss your next project?