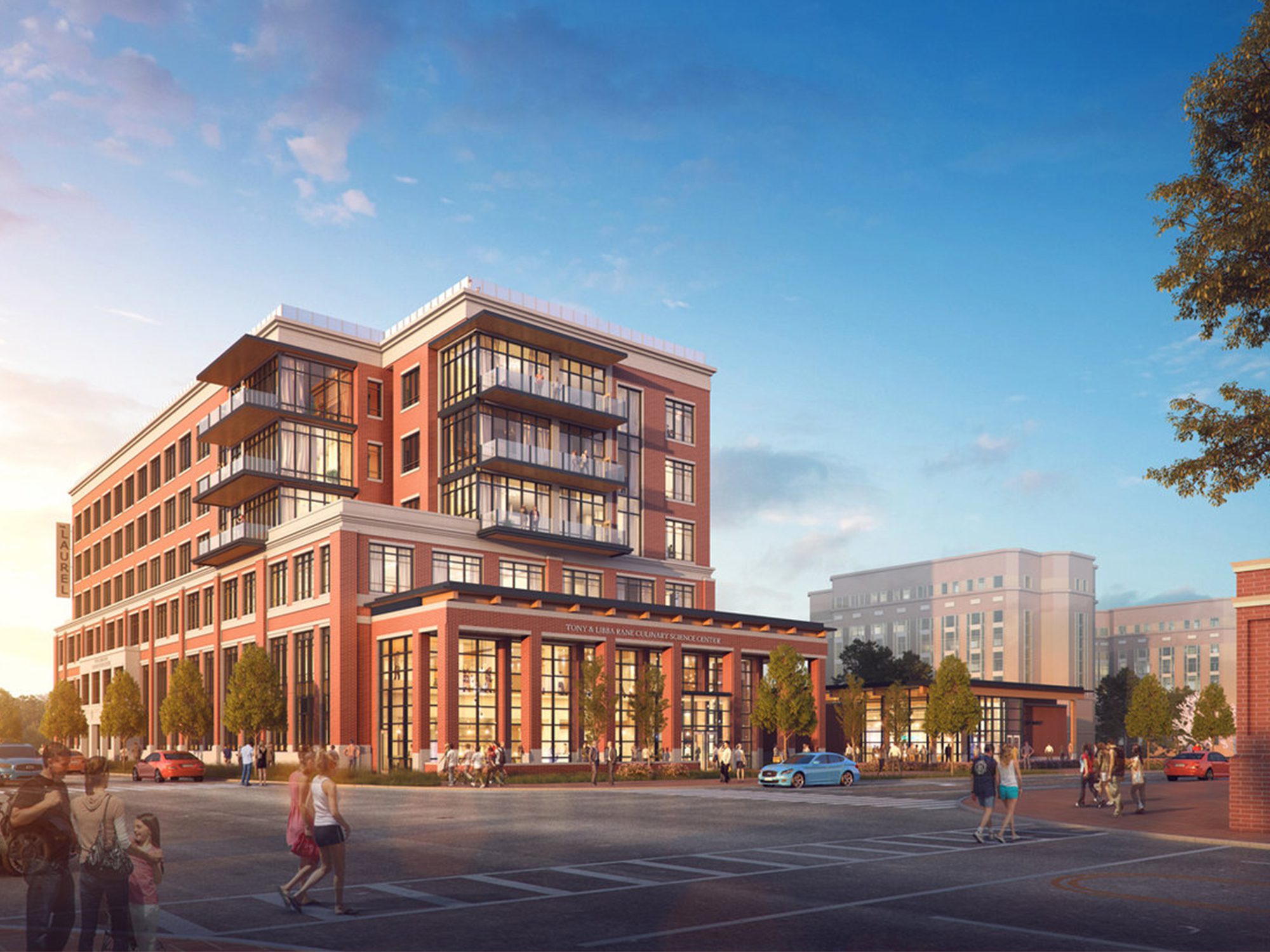 DESCRIPTION
The Tony & Libba Rane Culinary Science Center is one of the most exciting new construction projects in the Southeast, seeking to blend academic, hospitality, and retail spaces into a marquee location on the Auburn University campus. The academic spaces consist of a teaching restaurant, culinary teaching kitchens, wine appreciation center, distilled beverages center, brewery, and classroom spaces. The hospitality spaces feature high-end hotel rooms, living units, fitness center, spa, roof top event center, roof top garden, and roof top pool. The RCSC will also include an expansive food hall with numerous vendor spaces for tastes of all types.
The 142,000-square-foot complex will promote immersive learning experiences for students pursuing careers in hospitality and culinary sciences. Students will have the opportunity to train alongside world-renowned chefs and hospitality. This hands-on instructional atmosphere will offer students tangible experiences and equip them with the vital skills they need to evolve into future industry leaders.
Additionally, the RCSC will be seeking the prestigious AAA 5 Diamond certification, a coveted title given to less than half of one percent of the 27,000 hotels evaluated annually. HPM is providing Auburn with the unique insight and attention to detail we acquired serving as owner's representative for The Post Oak $35M AAA Five Diamond Hotel in Houston, Texas. This would be a first-of-its-kind opportunity for students to receive training at a first-rate culinary facility and Five Diamond hotel.
Overcoming A Utility Challenge
The greatest challenge for the University has been bypassing time-intensive utility relocations and keeping the overall project schedule on track with so many moving parts. To help resolve these issues, HPM scoped out and managed the bidding of a separate utility and enabled a works package for the building contractor. Our team of experts has deployed best practices learned from similar complex projects in the early pre-planning stages. Sharing our knowledge base from extensive experience in higher education and hospitality construction management with our project partners facilitates collaboration, reduces project costs, and maximizes value for the university.